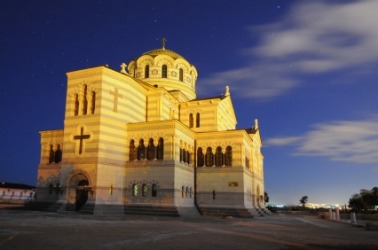 An Eastern Church in the Ukraine.
---
Eastern Church
Historical

the Christian Church in much of the eastern part of the Roman Empire, consisting of the four patriarchates in eastern Europe, western Asia, and Egypt, headed by the bishops of Constantinople, Alexandria, Antioch, and Jerusalem
Eastern Orthodox Church
collectively, the Eastern Christian churches in communion with the Western churches
---
Eastern Church
noun
The church of the Byzantine Empire, including the patriarchates of Constantinople, Antioch, Alexandria, and Jerusalem.
The Eastern Orthodox Church.
often Eastern church The set of Christian churches centered in southwest Asia, northeast Africa, and Eastern Europe, including the Eastern Orthodox, Oriental Orthodox, Nestorian, and Eastern Catholic churches.
---