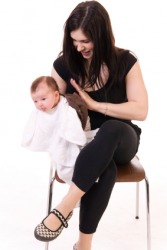 A mother tries to get her baby to burp.
noun
The definition of a burp is a noisy release of gas through the mouth.

An example of a burp is the noise people make after drinking a carbonated soda.
verb
Burp means to noisily release air through the mouth.

An example of burp is when a person expels gas from their mouth after drinking a carbonated drink.
---
burp
belch (noun)
Origin of burp
echoic
to expel gas through the mouth from the stomach; belch
to cause (a baby) to relieve itself of stomach gas, as by patting its back
---
burp
noun
A belch.
A brief sharp sound: the burp of antiaircraft fire.
verb
burped, burp·ing, burps
verb
intransitive
To belch.
To make brief sharp sounds: "Radio noises burped from the front of the cabin" ( Jonathan Kellerman )
verb
transitive
To cause (a baby) to expel gas from the stomach, as by patting the back after feeding.
Origin of burp
Imitative
---
burp

Noun
(plural burps)
A belch.
Usage notes
A belch is generally considered to be louder than a burp
Verb
(third-person singular simple present burps, present participle burping, simple past and past participle burped)
(intransitive) To emit a burp.
To cause someone (such as a baby) to burp.
Origin
Originally from American English, of imitative origin.
---