burpee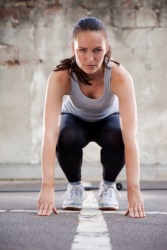 A woman in the process of performing a burpee.
noun
The definition of a burpee is an exercise move that involves dropping from standing into a squat then thrusting your legs into a plank or pushup position, then back to the squat position before returning to standing.

An example of a burpee is the burpee push up that is used in boot camp classes.
---
burpee

Noun
(plural burpees)
A physical exercise performed by bending over, performing a squat thrust, and returning to a standing position.
Origin
After US psychologist Royal Huddleston Burpee (1897–).
---