---
Burgundy
noun
pl.
-·dies
any of the red or white wines, typically dry, made in Burgundy
a red wine of similar type made elsewhere

loosely

any dry red table wine

a purplish red
historical region in E France of varying extent

metropolitan region in E France: 12,194 sq mi (31,582 sq km); chief town, Dijon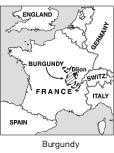 ---
Burgundy
A ducal house of Burgundy split into the Capetian line (1032-1361) and the Cadet, or Valois, line (1363-1477).
A Portuguese dynasty (1139-1383) beginning with Alfonso I, who made Portugal an independent kingdom.
also Bour·gogne
A historical region and former duchy of eastern France. The area was first organized into a kingdom by the Burgundii, a Germanic people, in the 5th century AD. At the height of its later power in the 14th and 15th centuries, Burgundy controlled vast territories in present-day Netherlands, Belgium, and northeast France. It was incorporated into the French crown lands by Louis XI in 1477.
Related Forms:
Bur·gun′di·an

adjective

noun
noun
pl.
Bur·gun·dies
a. Any of various red or white wines produced in the Burgundy region of France.

b. Any of various similar wines produced elsewhere.

burgundy A dark grayish or blackish red to dark purplish red or reddish brown.
---
burgundy

Noun
(plural burgundies)
Alternative capitalization of Burgundy (wine).
Adjective
(comparative more burgundy, superlative most burgundy)
Origin
1881, from attributive use of Burgundy ("wine from Burgundy") from Burgundy wine from Burgundy ("region of France") + wine.
Proper noun
A region of France.
Noun
(plural Burgundies)
A variety of red wine from this region.
A variety of wine resembling that of Burgundy; especially from Australia or California.
Origin
Adapted from Medieval Latin Burgundia, French Bourgogne, from Late Latin Burgundiones ("highlanders"), from Proto-Indo-European *bhrgh-nt- ("high, mighty"), from *bʰerǵʰ- ("high"). Cognate with Old Armenian բուրգն (burgn, "tower"), Proto-Celtic *brixs.
Burgundy (wine) is an abbreviation of the attributive use of the regional name, in Burgundy wine.
---