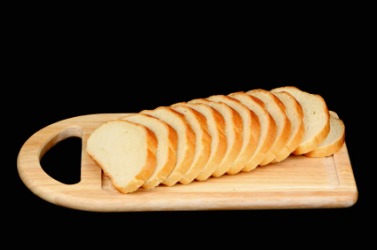 Slices of bread on a breadboard.
---
breadboard definition by Webster's New World
☆
noun
a board on which dough is kneaded or bread is sliced

a board on which experimental electronic circuits or diagrams can be laid out
such a circuit, model, etc. being developed or tested
Webster's New World College Dictionary Copyright © 2010 by Wiley Publishing, Inc., Cleveland, Ohio. Used by arrangement with John Wiley & Sons, Inc.
---
breadboard definition by American Heritage Dictionary
noun
A board on which bread is sliced or dough is kneaded.
An experimental model, especially of an electric circuit; a prototype.
A thin, blank, often white board on which a prototype circuit with numerous connections for circuit elements is constructed.
transitive verb
bread·board·ed
,
bread·board·ing
,
bread·boards
To construct an experimental model of (an electric circuit, for example).
Related Forms:
The American Heritage® Dictionary of the English Language, 4th edition Copyright © 2010 by Houghton Mifflin Harcourt Publishing Company. Published by Houghton Mifflin Harcourt Publishing Company. All rights reserved.
---
breadboard - Computer Definition
A thin plastic board used to hold electronic components (transistors, resistors, chips, etc.) that are wired together. Used to develop prototypes of electronic circuits, the boards can be reused for future jobs. Breadboards can also be used to create one-of-a-kind systems, although commercial products placed on printed circuit boards are typically much more robust and can handle greater frequencies. The breadboard contains spring clip contacts typically arranged in matrices with certain blocks of clips already wired together. The components and jump wires (assorted wire lengths with pins at both ends) are plugged into the clips to create the circuit patterns. The boards also typically include metal strips along the side that are used for common power rails and signal buses.