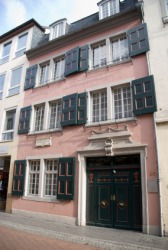 Beethovens birthplace in Bonn.
---
Bonn
city in W Germany, in North Rhine-Westphalia: capital of the Federal Republic of Germany (West Germany), 1949-90: pop. 298,000
---
Bonn
A city of west-central Germany on the Rhine River. Founded as a Roman garrison in the first century AD, it is noted as the birthplace of Ludwig van Beethoven (1770) and was the capital of West Germany (1949–1990).
---
Bonn
Proper noun
A city in the state of North Rhine-Westphalia, Germany, which was the former capital of West Germany
See also:
bon
---