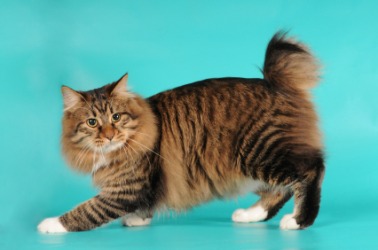 A bobtailed cat.
---
bobtail
noun
a short tail or one cut short
a horse or dog with a bobtail
adjective
having a bobtail
cut short; abbreviated
transitive verb
to dock the tail of
to cut short; curtail
---
bobtail
noun
A short or shortened tail.
An animal, such as a horse, having a short or shortened tail.
Something that has been cut short or abbreviated.
Related Forms:
---
bobtail
Noun
(plural bobtails)
A short, or deliberately shortened tail.
Hence, also said of some animals that have a bobtail, such as certain canines or nags.
A tractor-trailer that is relatively short in length.
---