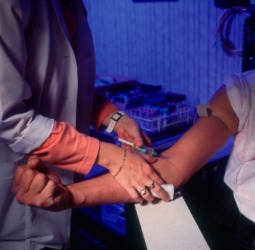 A nurse draws blood for a blood test.
noun
The definition of a blood test is a scientific examination of your blood.

When a doctor wants to find out whether you have a medical condition and has your blood taken with a needle and examined in a lab, this is an example of a blood test.
---
blood test
an examination of a small amount of a person's blood for diagnosis, classification, blood count, etc.
a test to detect the presence of blood that is not visible, as in feces
---
blood test
noun
An analysis of a sample of blood, especially for diagnostic or therapeutic purposes.
The process of obtaining blood for such a test: went to the clinic for a blood test.
---
blood-test

Noun
(plural blood tests)
A serologic analysis of a sample of blood; a test in which blood is removed from a subject and analyzed to determine the presence or levels of any of a variety of substances which indicate whether the subject has health problems.
An analysis of blood performed on two subjects to determine whether they are biologically related, such as a paternity test.
---