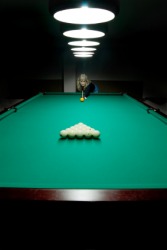 A table for playing billiards.
---
billiards definition by Webster's New World
noun
a game played with three hard balls on a rectangular table covered with cloth, esp. baize, and having raised, cushioned edges: a long, tapering stick (called a cue) is used to hit and move the balls
any of a number of similar games: pool is sometimes called
Origin: French billard, the game; origin, originally , a stick, cue ; from Old French bille: see billet
Webster's New World College Dictionary Copyright © 2010 by Wiley Publishing, Inc., Cleveland, Ohio. Used by arrangement with John Wiley & Sons, Inc.
---
billiards definition by American Heritage Dictionary
plural noun
(used with a sing. verb)
A game played on a rectangular cloth-covered table with raised cushioned edges, in which a cue is used to hit three small, hard balls against one another or the side cushions of the table.
One of several similar games, sometimes using a table with pockets, as in pool.
Origin: French billard, from bille, log; see billet2.