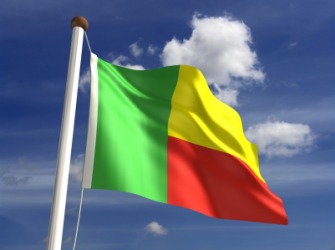 The flag of Benin or Dahomey.
---
Benin definition by Webster's New World
former native kingdom (fl. 14th-17th cent.) in W Africa, including what came to be known as the Slave Coast

country in WC Africa, on the Bight of Benin: formerly a French territory, it became independent in 1960: 43,484 sq mi (112,622 sq km); pop. 4,855,000; cap. Porto Novo

N part of the Gulf of Guinea, just west of the Niger delta
---
Benin definition by American Heritage Dictionary
A former kingdom of western Africa, now part of Nigeria. It flourished from the 14th to the 17th century.
Formerly Da·ho·mey A country of western Africa. Originally made up of several ancient kingdoms colonized by France in the 19th century, it became independent in 1960 and was renamed Benin in 1975. Porto-Novo is the capital and Cotonou the largest city. Population: 8,080,000.
also Benin City A city of southern Nigeria on the Benin River, about 161 km (100 mi) long. The city is known for its bronze works of art. Population: 1,120,000.
Benin
, Bight of
A wide indentation of the Gulf of Guinea in western Africa.