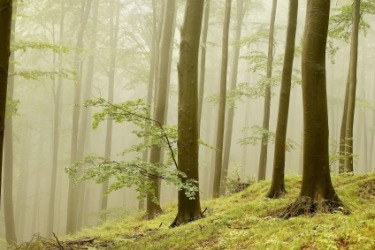 Beech trees in the fog.
Licensed from iStockPhoto
---
adjective
designating a family (Fagaceae, order Fagales) of dicotyledonous trees, including the oaks and chestnuts
Origin: Middle English beche ; from Old English boece, bece: see book
noun
any of a genus (Fagus) of trees of the beech family, with smooth, gray bark, hard wood, dark-green leaves, and edible three-cornered nuts
the wood of the trees of this genus
Webster's New World College Dictionary
Copyright © 2010 by Wiley Publishing, Inc., Cleveland, Ohio.
Used by arrangement with John Wiley & Sons, Inc.
---
noun
a. A deciduous tree of the genus Fagus having smooth gray bark, alternate simple leaves, and three-angled nuts enclosed in prickly burs. The best-known species are F. grandifolia of eastern North America and the European species F. sylvatica and its numerous cultivated forms.

b. The wood of any of these trees, used for flooring, containers, plywood, and tool handles.

Any of several other woody plants, as in the genera Carpinus and Nothofagus.
Origin: Middle English beche, from Old English bēce; see bhāgo- in Indo-European roots.
beech
American beech
Fagus grandifolia
The American Heritage® Dictionary of the English Language
, 4th edition Copyright © 2010 by Houghton Mifflin Harcourt Publishing Company. Published by Houghton Mifflin Harcourt Publishing Company. All rights reserved.