barge

barge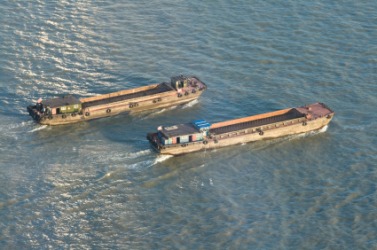 Two barges on a river.
noun
The definition of a barge is a large boat whose underside is flat that is used for hauling goods on waterways and in harbors.

A flatboat is an example of a barge.
verb
To barge is defined as to push ahead in a clumsy or abrupt way.

To rush through a door without knocking is an example of barge.
---
barge
a large boat, usually flat-bottomed, for carrying heavy freight on rivers, canals, etc.
a large pleasure boat, esp. one used for state ceremonies, pageants, etc.
a boat reserved for the use of a flag officer

Slang

any clumsy boat
Origin of barge
Middle English and Old French from Medieval Latin
barga
from Late Latin
barca
from an unverified form
barica
from Classical Greek
baris
, Egyptian boat from Coptic
bar?,
small boat
transitive verb
barged

,

barg′ing
to carry by barge
to move slowly and clumsily
to come or go (in or into) in a rude, abrupt, or clumsy way
to collide heavily or clumsily; run (into)
---
barge
noun
a. A long, large, usually flatbottom boat for transporting freight that is generally unpowered and towed or pushed by other craft.

b. A large, open pleasure boat used for parties, pageants, or formal ceremonies.

A powerboat reserved for the use of an admiral.
verb
barged, barg·ing, barg·es
verb
transitive
To carry by barge.
verb
intransitive
To move about clumsily.
To intrude or interrupt, especially rudely: barged into the meeting.
Origin of barge
Middle English
from
Old French
from
Latin
barca
boat
; see
bark
3
.
barge
---
barge

---
barge - Investment & Finance Definition
A ship that is used to carry heavy and space-intensive products in rivers, lakes, or other waterways. For example, inland river barges that carry oil products typically hold 25,000 barrels; ocean-going barges range in size up to 120,000 barrels.
---