noun
The definition of a barge is a large boat whose underside is flat that is used for hauling goods on waterways and in harbors.

A flatboat is an example of a barge.
verb
To barge is defined as to push ahead in a clumsy or abrupt way.

To rush through a door without knocking is an example of barge.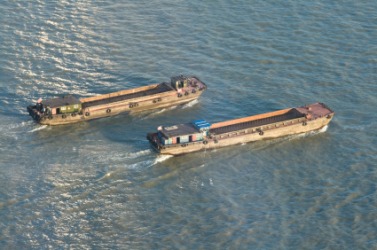 Two barges on a river.
---
barge definition by Webster's New World
noun
a large boat, usually flat-bottomed, for carrying heavy freight on rivers, canals, etc.
a large pleasure boat, esp. one used for state ceremonies, pageants, etc.
a boat reserved for the use of a flag officer

Slang

any clumsy boat
Origin: Middle English and amp; Old French ; from Midieval Latin barga ; from Late Latin barca ; from an unverified form barica ; from Classical Greek baris, Egyptian boat ; from Coptic barī, small boat
intransitive verb
to move slowly and clumsily
to come or go (in or into) in a rude, abrupt, or clumsy way
to collide heavily or clumsily; run (into)
Webster's New World College Dictionary Copyright © 2010 by Wiley Publishing, Inc., Cleveland, Ohio. Used by arrangement with John Wiley & Sons, Inc.
---
barge definition by American Heritage Dictionary
noun
a. A long, large, usually flatbottom boat for transporting freight that is generally unpowered and towed or pushed by other craft.

b. A large, open pleasure boat used for parties, pageants, or formal ceremonies.

A powerboat reserved for the use of an admiral.
verb
barged
barged
,
barg·ing
,
barg·es
verb
, transitive
To carry by barge.
verb
, intransitive
To move about clumsily.
To intrude or interrupt, especially rudely: barged into the meeting.
Origin: Middle English, from Old French, from Latin barca, boat.
The American Heritage® Dictionary of the English Language, 4th edition Copyright © 2010 by Houghton Mifflin Harcourt Publishing Company. Published by Houghton Mifflin Harcourt Publishing Company. All rights reserved.
---
barge - Investment & Finance Definition
A ship that is used to carry heavy and space-intensive products in rivers, lakes, or other waterways. For example, inland river barges that carry oil products typically hold 25,000 barrels; ocean-going barges range in size up to 120,000 barrels.