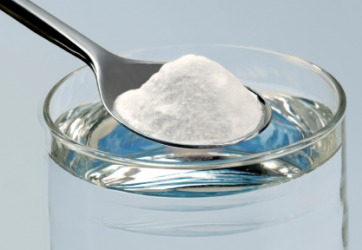 A spoonful of baking soda.
---
baking soda
☆
a white powder, sodium bicarbonate, NaHCO, used as a leavening agent, antacid, and mouthwash, and in fire extinguishers
---
baking soda
noun
A white crystalline compound, NaHCO3, with a slightly alkaline taste, used in making effervescent salts and beverages, artificial mineral water, pharmaceuticals, and fire extinguishers. Also called bicarbonate of soda, sodium bicarbonate.
---
baking soda
---