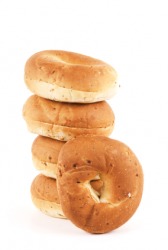 A stack of bagels.
---
bagel definition by Webster's New World
noun
a chewy bread roll made of yeast dough twisted into a small doughnutlike shape, cooked in simmering water, then baked
Origin: north eastern Yiddish beygl ; from Middle High German an unverified form bougel from source Austrian German beugel, kind of croissant; akin to German bügel, stirrup, origin, originally ring ; from beugen, to bend: for Indo-European base see bow
Webster's New World College Dictionary Copyright © 2010 by Wiley Publishing, Inc., Cleveland, Ohio. Used by arrangement with John Wiley & Sons, Inc.
---
bagel definition by American Heritage Dictionary
noun
A glazed, ring-shaped roll with a tough, chewy texture, made from plain yeast dough that is dropped briefly into nearly boiling water and then baked.
Origin: Yiddish beygl, from Middle High German *böugel, diminutive of bouc, ring, from Old High German boug; see bheug- in Indo-European roots.