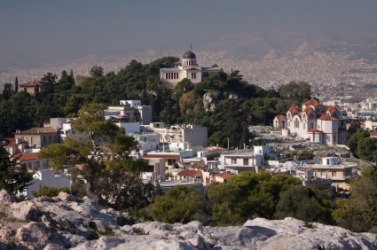 The city of Athens, Greece.
---
Athens definition by Webster's New World
capital of Greece, in the SE part: pop. 772,000: became established as the center of Greek culture in the 5th cent. , when it was the capital of ancient Attica
Webster's New World College Dictionary Copyright © 2010 by Wiley Publishing, Inc., Cleveland, Ohio. Used by arrangement with John Wiley & Sons, Inc.
---
Athens definition by American Heritage Dictionary
The capital and largest city of Greece, in the eastern part of the country near the Saronic Gulf. It was at the height of its cultural achievements and imperial power in the fifth century B.C. during the time of Pericles. Athens became the capital of modern Greece in 1834, two years after the country achieved its independence from Turkey. Population: 745,000.
A city of northeast Georgia east-northeast of Atlanta. It was founded in 1785 as the site of the University of Georgia, which was chartered that year and established in 1801. Population: 112,000.
The American Heritage® Dictionary of the English Language, 4th edition Copyright © 2010 by Houghton Mifflin Harcourt Publishing Company. Published by Houghton Mifflin Harcourt Publishing Company. All rights reserved.
---
athens - Computer Definition
An earlier prototype of a PC that integrated telephony functions. Unveiled by Microsoft and HP in the spring of 2003, an Athens PC included a telephone handset, video camera and keyboard buttons for common functions. The machine was quieter, smaller and sleeker than the PC of that era, somewhat reminiscent of Apple's G4 Cube. Athens included a large, wide screen LCD display and connected to the company PBX.
Computer Desktop EncyclopediaTHIS DEFINITION IS FOR PERSONAL USE ONLYAll other reproduction is strictly prohibited without permission from the publisher.© 1981-2014 The Computer Language Company Inc. All rights reserved.
---
Athens - Cultural Definition
Capital of Greece in east-central Greece on the plain of Attica, overlooking an arm of the Mediterranean Sea. Named after its patron goddess, Athena, Athens is Greece's largest city and its cultural, administrative, and economic center.
In the fifth century

b.c.

, Athens was one of the world's most powerful and highly civilized cities (

see also under "World History to 1550"

).
As the cultural center of Greece, ancient Athens was home to influential writers and thinkers such as Aristophanes, Euripides, Socrates, and Plato.
A leading city of ancient Greece, famous for its learning, culture, and democratic institutions. The political power of Athens was sometimes quite limited, however, especially after its defeat by Sparta in the Peloponnesian War. Pericles was a noted ruler of Athens. (See also under "World Geography.")