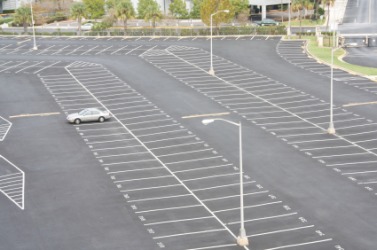 An asphalt parking lot.
noun
The definition of asphalt is a black or brown, tar-like substance that is used to cover roadways and is usually mixed with gravel.

Blacktop on your driveway is an example of asphalt.
---
asphalt
a brown or black, tarlike, bituminous substance that consists mainly of hydrocarbons, found in large flat beds or made by refining petroleum
a mixture of this with sand or gravel, for cementing, paving, roofing, etc.
Origin of asphalt
Medieval Latin
asphaltus
from Classical Greek
asphaltos
, probably from
a-
, not +
sphallein
, to cause to fall, injure ( from Indo-European base an unverified form
(s)p(h)el-
, to split off from source spill): uncertain or unknown; perhaps so named because of use as protective substance for walls
to pave, roof, etc. with asphalt
---
asphalt
noun
See bitumen.
A mixture of bitumen with crushed stone gravel or sand, used for paving or roofing.
transitive verb
as·phalt·ed, as·phalt·ing, as·phalts
To pave or coat with asphalt.
Origin of asphalt
Middle English
aspalt
from
Medieval Latin
asphaltus
from
Greek
asphaltos
Related Forms:
---
asphalt

Noun
(plural asphalts)
A sticky, black and highly viscous liquid or semi-solid, composed almost entirely of bitumen, that is present in most crude petroleums and in some natural deposits.
asphalt concrete, a hard ground covering used for roads and walkways.
Verb
(third-person singular simple present asphalts, present participle asphalting, simple past and past participle asphalted)
To pave with asphalt.
Origin
From Late Latin asphaltum, from Ancient Greek ἄσφαλτος (ásphaltos, "asphalt, bitumen").
---