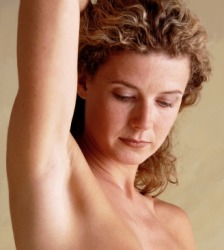 Woman with arm raised revealing armpit.
noun
An armpit is defined as the body part underneath the area where the arm meets the shoulder.

The area on the body where people apply deodorant is an example of an armpit.

The definition of an armpit can refer to a bad, gross or unpleasant place.

An example of an armpit is the dirty section of a city known for its high crime rates.
---
armpit
the hollow under the arm at the shoulder; axilla
---
armpit
noun
The hollow under the upper part of the arm at the shoulder.
Slang The most miserable or undesirable place in a particular area.
---
armpit

Noun
(plural armpits)
The cavity beneath the junction of the arm and shoulder.
Somewhere or something considered foul.

The armpit of America.
---