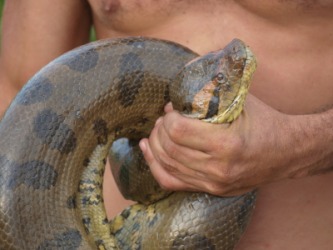 An anaconda snake.
---
anaconda definition by Webster's New World
noun
a very long, heavy South American boa (Eunectes murinus) that lives in trees and water
Origin: earlier anacandaia ; from Sinhalese henacandāya, literally , lightning-stem, a snake of Sri Lanka: name later transferred to this South American boa
Webster's New World College Dictionary Copyright © 2010 by Wiley Publishing, Inc., Cleveland, Ohio. Used by arrangement with John Wiley & Sons, Inc.
---
anaconda definition by American Heritage Dictionary
noun
Either of two nonvenomous, semiaquatic snakes (Eunectes murinus or E. noteus) of tropical South America that kill their prey by suffocating it in their coils. E. murinus, the giant anaconda, can attain lengths from 5 to 9 meters (16.4 to 29.5 feet).
Origin: Perhaps alteration of Sinhalese henakandayā, whip snake.