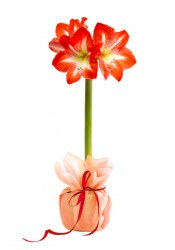 A bouquet of amaryllis.
---
amaryllis definition by Webster's New World
noun
any of several plants (esp. genus Hippeastrum) of the lily family bearing several white, purple, pink, or red flowers on a leafless stem, including the belladonna lily
Origin: ; from Classical Latin and amp; Classical Greek Amaryllis, a shepherdess' name in poems by Virgil and Theocritus
Webster's New World College Dictionary Copyright © 2010 by Wiley Publishing, Inc., Cleveland, Ohio. Used by arrangement with John Wiley & Sons, Inc.
---
amaryllis definition by American Heritage Dictionary
noun
Any of several chiefly tropical American bulbous plants of the genus Hippeastrum grown as ornamentals for their large, showy, funnel-shaped, variously colored flowers that are grouped in umbels.
See belladonna lily.
Any of several similar or related plants.
Amaryllis Used in classical pastoral poetry as a conventional name for a shepherdess.
Origin: New Latin Amaryllis, genus name, from Latin, name of a shepherdess, from Greek Amarullis.
amaryllis