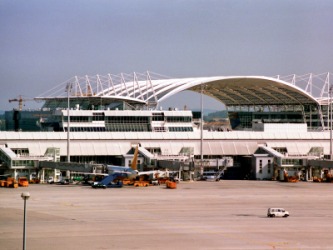 The terminal of a modern airport.
noun
The definition of an airport is a place where airplanes take off and land that has all the services and buildings needed to take care of the airplanes, passengers, and cargo.

An area with buildings, airplanes, and airstrips is an example of an airport.
---
airport
a place where aircraft can land and take off, usually equipped with hangars, facilities for refueling and repair, accommodations for passengers, etc.
---
airport
noun
A place where aircraft take off and land, usually equipped with hard-surfaced landing strips, a control tower, hangars, aircraft maintenance and refueling facilities, and accommodations for passengers and cargo.
---
airport - Computer Definition
A family of wireless routers from Apple, introduced in 1999. In the past, Apple branded the Wi-Fi capability in its Mac laptops as AirPort. See wireless router. AirPort Extreme The larger AirPort Extreme is a traditional wireless router with three wired Ethernet ports for computers. Its single USB port can be used to connect a printer or external hard drive. AirPort Express Introduced in 2004, the smaller AirPort Express has only one wired Ethernet port. The AirPort's AirPlay feature streams music wireless from iTunes in a computer or from any iOS device to powered speakers or a stereo amplifier connected to the unit. In conjunction with the primary wireless router in the home, the Express can also be used as a Wi-Fi range extender and boost the signal over a longer distance. See AirPlay, Time Capsule, digital media hub and iTunes.
---