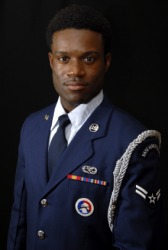 A man wearing an Air Force uniform.
---
air force
the aviation branch of the armed forces of a country

an organizational unit of an aviation force
in the U.S. Air Force, a unit lower than an air command, usually made up of several air divisions
---
air force
noun
The aviation branch of a country's armed forces, such as the US Air Force.
See numbered air force.
---
air force
Proper noun
The United States Air Force.
Sports teams representing the United States Air Force Academy.
---