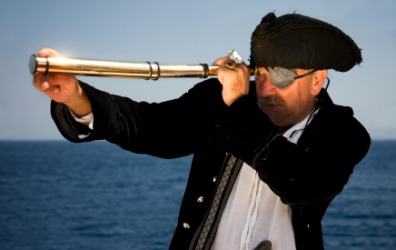 A pirate might say "ahoy!"
interjection
The definition of ahoy is nautical or pirate lingo and is a term used to attract attention or say hello when boarding or aboard a boat.

When you are going to board a ship and want to say hello to someone on the ship using traditional nautical lingo, this is an example of a time when you might say ahoy.
---
ahoy
Naut.
used to hail a ship:
ship ahoy!
Origin of ahoy
a(h) + hoy
---
ahoy
interjection
Used to hail a ship or to attract attention.
---
ahoy

---