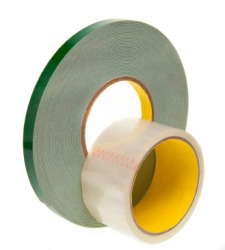 Two types of adhesive tape.
adjective
Adhesive is defined as something that is sticky.

An example of something adhesive is paste.
noun
The definition of adhesive is a substance that sticks to something.

An example of an adhesive is tape.
---
adhesive
sticking and not coming loose; clinging
made so as to adhere
Origin of adhesive
French
adhésif
from Classical Latin
adhaesus
, past participle of
adhaerere
: see adhere
an adhesive substance, as glue

Philately

an adhesive postage stamp
---
adhesive
adjective
Tending to adhere; sticky.
Gummed so as to adhere.
Tending to persist; difficult if not impossible to shake off: "He feels an adhesive dread, a sudden acquaintance with the … darker side of mankind" ( George F. Will )
noun
A substance, such as paste or cement, that provides or promotes adhesion.
Related Forms:
---
adhesive

Origin
From French adhésif, from Latin as if *adhaesivus, from adhasus, past participle of adhaerere; see adhere.
See also:
adhésive
---