Prado

Prado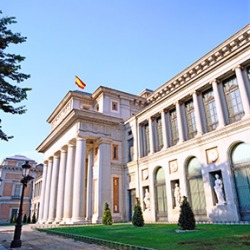 Prado Museum
noun
The Prado is the national museum of art in Madrid, Spain.

An example of the Prado is a tourist attraction in Madrid to which many art lovers flock.

YourDictionary definition and usage example. Copyright © 2018 by LoveToKnow Corp

Link to this page

Cite this page

MLA Style

"Prado." YourDictionary, n.d. Web. 09 May 2019. <https://www.yourdictionary.com/Prado>.

APA Style

Prado. (n.d.). Retrieved May 09th, 2019, from https://www.yourdictionary.com/Prado
---
Prado

Spanish national museum of art in Madrid
Webster's New World College Dictionary, Fifth Edition Copyright © 2014 by Houghton Mifflin Harcourt Publishing Company. All rights reserved.
Link to this page
Cite this page
MLA Style
"Prado." YourDictionary, n.d. Web. 09 May 2019. <https://www.yourdictionary.com/Prado>.
APA Style
Prado. (n.d.). Retrieved May 09th, 2019, from https://www.yourdictionary.com/Prado
---
Sentence Examples
---
Its surrender in 1625, after a ten months' siege, to the Spaniards under Spinola is the subject of the famous picture by Velasquez in the Museo del Prado in Madrid.
There is a pretty chapel called the " Rotunda," erected in 1852 at the lower end of the prado by President Belzu, on the spot where an attempt had been made to assassinate him.
On the 2nd of August 1876 General Mariano-Ignacio Prado was elected.
The former, the old city, lying close to the harbour front, has streets as narrow as is consistent with wheel traffic. Obispo (Pi y Margall in the new republican nomenclature), O'Reilly and San Rafael are the finest retail business streets, and the Prado and the Cerro the handsomest residential streets in the city proper.
And the Parque de la India (these two names are now practically abandoned) to the Parque de Colon or Campo de Marte, is the Prado, 1 a wide and handsome promenade and drive, shaded with laurels and lined with fine houses and clubs.
WORDS NEAR Prado IN THE DICTIONARY
---