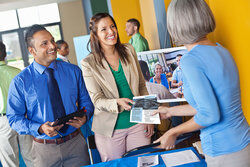 A one-pager, also known as a one-sheet or flier, is a one-page document that provides an overview of a service, company, product, or person. Effective one-pagers can quickly turn a reader into a customer or investor. They are a staple of any marketing department, but in recent years, one-pagers have also made their way into the classroom.
Content and style are the most important parts of a one-pager. A visually appealing one-pager with concise wording is more likely to get – and keep – a reader's attention. Other aspects of a one-pager include:
Data (charts, statistics, or testimonials from satisfied customers)
Pictures or illustrations
Diagrams that are easy to understand
Awards that the business has received
Contact information
The key to a great one-pager is balancing these parts in a stylistic way. Well-organized one-pagers are more effective than those with long paragraphs or too many images.
Company One-Pager Examples
A company one-pager is meant to convince a reader to try a product or service. Marketing departments also use one-pagers for potential investors, in which case they include more information about the company as a whole. Here are two examples of company one-pagers.
One-pagers that target customers should address why this product or service is perfect for them. They should also inform readers how they are a superior choice over their competitors. Check out how an organic baby clothes store may reach out to their customers with a one-pager.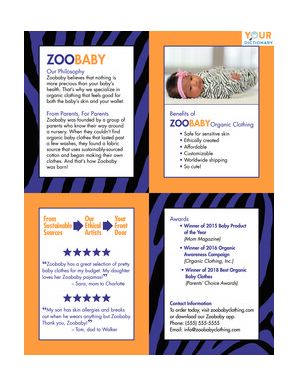 Sometimes companies need to summarize their history in a one-pager for potential investors. The one-pagers typically include the business's long-term mission and short-term objectives. They feature the company's past successes while emphasizing the need to move forward.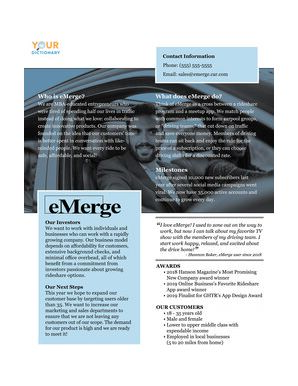 One-Pager Examples for Students
A one-pager project is a fun way for students to express themselves and demonstrate what they've learned. Like marketing one-pagers, these assignments must get a lot of information across in a stylistic way. Here are two examples of one-pager projects from different subjects and grade levels. You can use either example as a one-pager template for your own creation.
One-Pager for Elementary Students
Even students who love to read hate writing book reports. One-pagers can encourage students to bring the essence of a book to an easy-to-read format. An example of an elementary level one-pager for English language arts might look like this: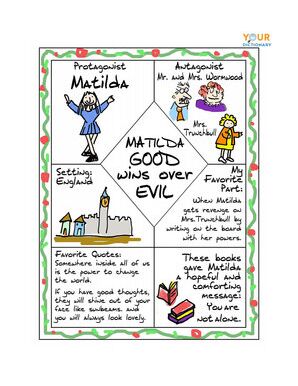 One-Pager for High School Students
Ideal for conveying large amounts of information in creative ways, one-pagers are an asset for any science, math, or history class. High schoolers who struggle with remembering facts and data may thrive when it comes to creating one-pagers.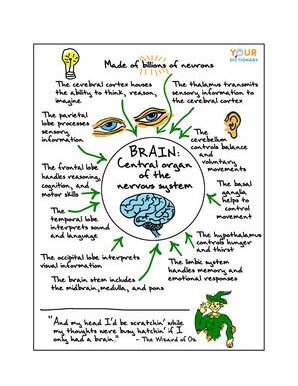 One-pagers aren't just for the business and education world. These groups regularly use the easy and informational format of one-pagers, too.
Musicians promoting a concert or gig
Actors going out for an audition
Protestors getting the word out
Election campaigns publicizing their candidate
Charities advertising events or opportunities to donate
More Ways to Promote Yourself