verb
Zeroed is defined as to set an instrument or scale to zero degrees.

An example of to have zeroed is to have changed a postal scale to read zero before you put the package on the scale.
YourDictionary definition and usage example. Copyright © 2013 by LoveToKnow Corp.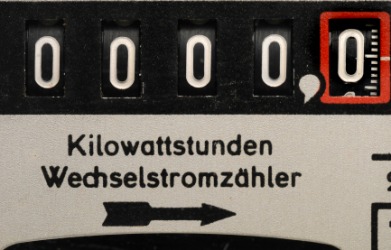 This meter has been zeroed.
Licensed from iStockPhoto
---
zeroed
Variant of zero
noun
pl. zeros or zeroes
the symbol or numeral 0, representing the complete absence of any quantity or magnitude
the point, marked 0, from which positive or negative quantities are reckoned on a graduated scale, as on a thermometer; specif.,

on a centigrade thermometer, the freezing point of water
on a Fahrenheit thermometer, a point 32° below the freezing point of water

a temperature that causes a thermometer to register zero
the point intermediate between positive and negative quantities
nothing
the lowest point: his chances of success sank to zero

Gunnery

a sight setting for a range, allowing for both elevation and windage
Origin: Fr zéro from Italian zero from Arabic ṣifr, cipher
adjective
of or at zero
without measurable value

Informal

not any; no: a snack having zero cholesterol

Aeron.

designating or of a ceiling that is at or near the ground, specif. one at a height of fifty feet or lower
designating or of visibility along the ground regarded as within the limit of a few feet

Linguis.

designating a hypothetical inflectional form: the plural of deer is said to be formed by the addition of a zero allomorph of the plural morpheme