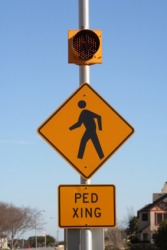 Ped xing means pedestrian crossing.
noun
Xing is defined as crossing.

An example of an xing is a crosswalk where school children cross the street.
---
Xing
---
xing

Abbreviations
(plural xings)
(US) crossing

Railroad xing 200 feet ahead.
Usage notes
Primarily used on road signs - see road crossing. Compare with crossbuck symbol.
---