wart hog
[wôrtˈhôgˌ, -hŏgˌ]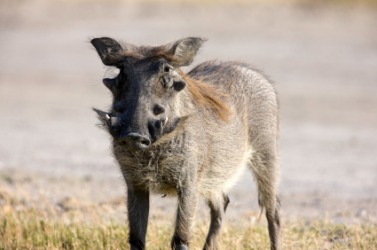 A young wart hog.
---
wart hog definition by Webster's New World
a wild African hog (
Phacochoerus aethiopicus
) having a broad, flat face, very large, incurved tusks, and conical warts on the cheeks between the eyes and tusks
Webster's New World College Dictionary Copyright © 2010 by Wiley Publishing, Inc., Cleveland, Ohio. Used by arrangement with John Wiley & Sons, Inc.
---
wart hog definition by American Heritage Dictionary
also wart·hog
noun
A wild African hog (Phacochoerus aethiopicus) that has two tusks and wartlike growths on the face.