warren

War·ren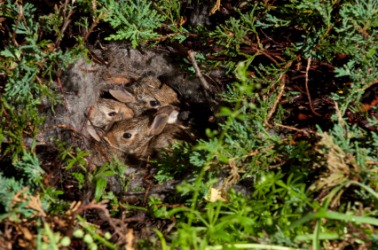 A rabbit warren.
noun
The definition of a warren is an area crowded with nesting rabbits, or a place that feels similarly crowded.

An example of a warren is an area in a forest where rabbits are living.
---
warren
Historical, Brit.

a piece of land enclosed for the breeding of game
a space or limited area in which rabbits breed or are numerous
any building or group of buildings crowded like a rabbit warren
Origin of warren
Middle English
wareine
from Norman French
warenne
from
warir
, to preserve from Frankish an unverified form
warjan
: see warrant
Warren
a masculine name
Origin of Warren
Norman French
warin
from uncertain or unknown; perhaps Old High German
Warin
, the Varini, a people mentioned by Tacitus
Warren
1891-1974; chief justice of the U.S. (1953-69)

1905-89; U.S. writer & poet: 1st poet laureate of the U.S. (1986-87)
Warren
Origin of Warren
after Dr. Joseph
Warren
(1741-75), killed at Bunker Hill city in SE Mich.: suburb of Detroit
---
warren
noun
a. An area where rabbits live in burrows.

b. A colony of rabbits.

An enclosure for small game animals.

a. An overcrowded living area.

b. A mazelike place where one may easily become lost: a warren of narrow, dark alleys and side streets.
Origin of warren
Middle English
warenne
from
Old North French
enclosure
; see
wer-
4
in Indo-European roots.
Warren
A city of southeast Michigan, an industrial suburb of Detroit.x
---
warren

Origin
From Middle English warenne, from Anglo-Norman and Old Northern French warenne, from Old French guarenne, garenne, probably from a Germanic *warinne "game park", from the root *war- of Proto-Germanic *warjanÄ… ("ward off, defend against") (cf. also Old French warir, guarir, a borrowing from this Germanic root). Alternatively the Old French may have derived from a Gaulish varenna ("enclosed area"), related to varros ("post").
Usage notes
The given name used in medieval England and returned to use in the nineteenth century, often transferred from the the surname. It has been more popular in the U.S.A. than in the U.K.
---