walrus
[wôl′rəs]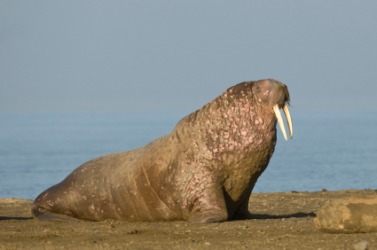 A big walrus.
---
walrus
noun
pl. walruses or walrus
a massive, arctic sea carnivore (Odobenus rosmarus) of the same family (Otariidae) as the eared seals, having two tusks projecting from the upper jaw, a thick mustache, a very thick hide, and a heavy layer of blubber
Origin of walrus
Dutch ; from Danish
hvalros
, probably by metathesis ; from Old Norse
hrosshvalr
, literally , horse whale ; from
hross
, akin to Old English
hros
, horse +
hvalr
,
whale
adjective
of, characteristic of, or suggestive of a walrus; specif., designating a mustache with long, drooping ends
---
walrus
noun
pl.
walrus
walrus
or
wal·rus·es
A large marine mammal (Odobenus rosmarus) of Arctic regions, related to the seals and having two long tusks, tough wrinkled skin, and four flippers.
Origin of walrus
Dutch,
of Scandinavian origin
.
walrus
Odobenus rosmarus
---
walrus
Noun
(plural walruses or walrus or walrusses)
Usage notes
The hypercorrect plurals walri and walrii, based on a faulty assumption that the word derives from a Latin noun of the second declension, are generally considered to be nonstandard.
---
walrus
Variant of walrus
noun
pl. walruses or walrus
a massive, arctic sea carnivore (Odobenus rosmarus) of the same family (Otariidae) as the eared seals, having two tusks projecting from the upper jaw, a thick mustache, a very thick hide, and a heavy layer of blubber
Origin of walrus
Dutch ; from Danish
hvalros
, probably by metathesis ; from Old Norse
hrosshvalr
, literally , horse whale ; from
hross
, akin to Old English
hros
, horse +
hvalr
,
whale
adjective
of, characteristic of, or suggestive of a walrus; specif., designating a mustache with long, drooping ends