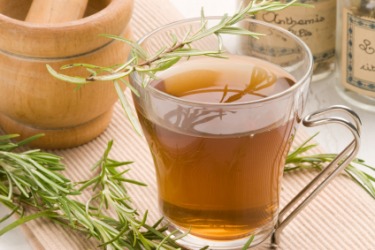 A tisane made with rosemary.
noun
Tisane, often spelled ptisan, is a beverage made of an infusion of dried herbs often used for medicinal purposes.

An example of a tisane is a herbal tea made of herbs and crushed barley.
---
tisane
a beverage made by steeping herbs, spices, roots, etc. in hot or boiling water, sometimes drunk for medicinal purposes; herb tea
Origin of tisane
Middle English
tysane
, drink made by boiling barley with water and other ingredients from Middle French
tisane
from Vulgar Latin
tisana
, for Classical Latin
ptisana
, barley groats, drink made from barley groats from Classical Greek
ptisan?
, peeled barley from
ptissein
, to peel from Indo-European base an unverified form
pis-
, to crush from source Classical Latin
pinsere
, to beat, crush
---
tisane
noun
An herbal infusion or similar preparation drunk as a beverage or for its mildly medicinal effect.
Origin of tisane
French
barley water
from
Old French
from
Latin
ptisana, tisana
; see
ptisan
.
---
tisane

Noun
(plural tisanes)
A medicinal drink, originally made from barley soaked in water; a herbal tea. [from 14th c.]
Origin
From Anglo-Norman tysanne, Middle French ptisane, tisane ("barley water, medicinal drink"), and their source, Latin ptisana, from Ancient Greek πτισάνη (ptisanÄ", "peeled barley, barley-water"), from πτίσσειν (ptissein, "to peel").
---