their

their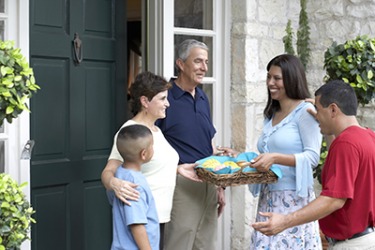 The Carmine's brought cookies to their new neighbors to welcome them to the neighborhood.
adjective
The definition of their is a person or thing that belongs to or was made by them.

An example of their is a sister of two siblings.
An example of their is a book written by two authors.
---
their
of, belonging to, made by, or done by them: often used with a singular antecedent (as everybody, somebody, everyone) to avoid the masculine implications of the traditional use of he without distinction as to gender, although this usage is objected to by some: did everybody finish their lunch?
Origin of their
Middle English
theyr
from Old Norse
theirra,
genitive plural of the demonstrative pronoun replacing Middle English
here,
Old English
hira:
see they
---
their
adjective
The possessive form of
they
Used as a modifier before a noun: their accomplishments; their home town.
Usage Problem His, her, or its: "It is fatal for anyone who writes to think of their sex" ( Virginia Woolf ) See Usage Note at he 1. See Usage Note at they .
Origin of their
Middle English
from
Old Norse
theira
theirs
; see
to-
in Indo-European roots.
---
their

Pronoun
(possessive) Belonging to, from, of, or relating to, them.

they will meet tomorrow at their convenience;  this is probably their cat

(possessive) Belonging to someone of unspecified gender.
Usage notes
For notes on the usage referring to a person of unspecified gender, see the usage notes for they.
It is important to distinguish "their" from "there" and "they're". "Their" signifies ownership. "There" designates a place (compare here). "They're" means "they are".
It should also be noted that this is an exception of the "I before E, except after C" rule, as the combination of "ei" in the middle of the word is not after a "c".
Origin
From Middle English, form Old Norse.
---