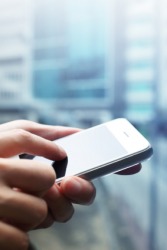 Using this cellphone is an example of telecommunication.
noun
Telecommunication is communicating with the use of an electronic device.

An example of telecommunication is talking to someone on a cell phone.
---
telecommunication
[also pl., with sing. or pl. v.] communication by electronic or electric means, as through radio, telephone, telegraph, television, or computers
Origin of telecommunication
tele- + communication, after French
télécommunication
---
telecommunication
noun
often telecommunications used with sing. verb The science and technology of communication at a distance by transmission of electrical impulses, electromagnetic waves, or optical pulses, as by telephone, radio, television, or computer network: Telecommunications is an important area of professional growth.

a. often telecommunications used with a pl. verb The systems used in transmitting such messages: Telecommunications were disrupted by the brownout.

b. A message so transmitted.
---
telecommunication

Origin
From French télécommunication.
---