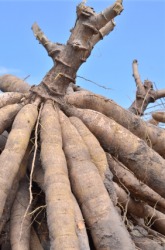 The cassava plant from which tapioca is made.
---
tapioca
noun
a starchy, granular substance prepared from the root of the cassava plant, used to make puddings, thicken soups, etc.
pudding made from this substance
Origin of tapioca
Portuguese and amp; Spanish ; from Tupí and amp; Guaraní
typyoca
; from
tipi
, dregs +
ok
, to squeeze out
---
tapioca
noun
A starch made from cassava roots, usually processed as beads or flakes and used for puddings and as a thickening agent in cooking.
A dish, especially a pudding, made from this starch.
Origin of tapioca
Portuguese, from Tupí
typióca
:
ty
,
juice
+
pyá
,
heart
+
oca
,
to remove
.
---
tapioca
Noun
(countable and uncountable, plural tapiocas)
A starchy food made from the cassava plant used in puddings.
Origin
From Portuguese tapioca, from Tupian/Old Tupi tipi'óka, tipioca ("that which is squeezed out of cassava").
---