T-bone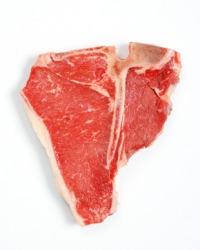 A T-bone steak.
---
T-bone
noun
A thick porterhouse steak taken from the small end of the loin and containing a T-shaped bone. Also called T-bone steak.
---
T-bone
Verb
(third-person singular simple present T-bones, present participle T-boning, simple past and past participle T-boned)
Origin
From the ⊤ shape produced by the vehicles involved in such a collision, with allusion to T-bone ¹.
---