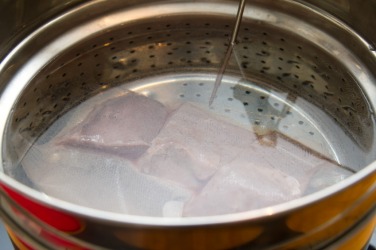 This method of cooking is called sous-vide.
noun
The definition of a sous vide is a cooking method that consists of sealing food in an airtight plastic bag and and placing it in a water bath in a vacuum environment for a long period of time.

An example of sous vide is cooking a steak in a plastic bag in a vacuum cooker.
---
sous vide
noun
The slow cooking of various ingredients in a sealed plastic pouch at a low temperature. This method cooks the food evenly and retains moisture.
Origin of sous vide
French
in a vacuum, vacuum-packed
sous
under
vide
vacuum
Related Forms:
---
sous-vide

Noun
(usually used attributively) Any method of cooking and packaging food in a vacuum.
Adverb
(not comparable)
Alternative form of sous-vide.
Verb
(third-person singular simple present sous-vides, present participle sous-viding, simple past and past participle sous-vided)
To cook in this manner.
---