slurry

slur·ry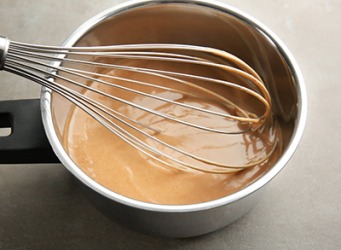 Gravy is thickened by whisking a cornstarch and water slurry into the boiling broth.
noun
Slurry is a thin muddy mixture of liquid and cement or clay.

An example of slurry is what potters use to join two very hard pieces of clay.
---
slurry
noun
pl.
-·ries
a thin, watery mixture of a fine, insoluble material, as clay or cement
Origin of slurry
Middle English
slory
from
slore
, thin mud from MDu, akin to slur
---
slurry
noun
pl.
slur·ries
A thin mixture of a liquid, especially water, and any of several finely divided substances, such as cement, plaster of Paris, or clay particles.
Origin of slurry
Middle English
slori
perhaps from
sloor
mud
---
slurry

Noun
(plural slurries)
Any flowable suspension of small particles in liquid.
(mining) Liquid waste from some types of mining, such as mountain top removal mining, usually very toxic and stored nearby in large dams.
(agriculture) A mixture of animal waste, other organic material and sometimes water, stored in a slurry pit and used as fertilizer; also used in combination, as pig slurry, etc.
Verb
(third-person singular simple present slurries, present participle slurrying, simple past and past participle slurried)
To make a slurry (of some material).
To apply a slurry (to).

Next week we will be slurrying the parking lot.
Origin
Unclear; probably related to Middle English slore or sloor ("thin or fluid mud"); compare slur. From mid-15th c.
Adjective
(comparative slurrier, superlative slurriest)
Slurred, tending to slur.

He spoke with a slurry voice. "" His voice became progressively slurrier as he drank the three bottles of wine.
Origin
From slur ("run together; articulate poorly") +"Ž -y.
---