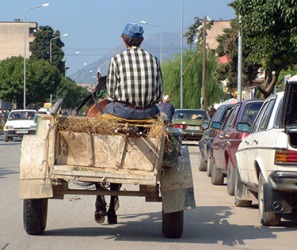 The slow moving donkey cart is holding up traffic.
adjective
The definition of slow moving is something that does not progress or sell at a fast pace but that gradually shows activity.

An example of slow moving is a turtle.
An example of slow moving is one color of a jacket that is not selling as quickly as other colors.
---
slow-moving
moving slowly; showing little progress or activity
selling in a relatively small quantity or at a slow rate, as merchandise, stocks, etc.
---
slow-moving

Adjective
(comparative more slow-moving, superlative most slow-moving)
travelling at a slow speed
---