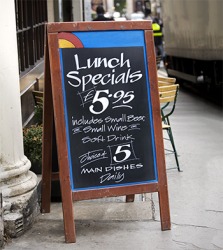 The restaurant signage advertising the lunch specials attracts people strolling down the sidewalk.
noun
Signage is a term that is defined as all of the visual graphics (public advertisements, billboards, etc.) or groups of graphics that communicate information to the public.

A row of billboards along a roadway advertising beer companies, insurance companies, lawyers and nearby restaurants is an example of signage.
---
signage
the signs, collectively, displayed as in a community, often, specif., when graphically coordinated
---
signage
noun
Signs considered as a group.
The design or use of signs and symbols.
---
signage

Noun
(usually uncountable, plural signages)
Signs taken collectively.

The signage in the airport is designed to point the way clearly to important locations.
The poor signage at Heathrow is only in English.
Usage notes
The use of countable "a signage" and "signages" is chiefly in India.
---