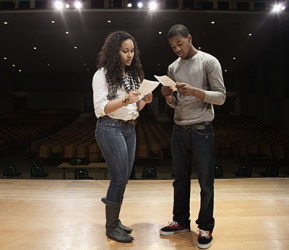 Jaylah and Charles were put on the shortlist after trying out for the lead roles in the high school play.
noun
The definition of a shortlist is a list of people or things for a final choice.

An example of a shortlist is the final list of people eligible to run for student body president.
verb
Shortlist is defined as to place someone or something on the final list from which a selection will be made.

An example of shortlist is to put a film on the final list for a movie award.
---
shortlist
a list of those candidates for a position, award, etc. not eliminated in the preliminary selection process, from which the final choice will be made
Chiefly Brit.
to place on a shortlist: often in the pp.
---
shortlist
also short-list
noun
A list of preferable items or candidates that have been selected for final consideration, as in making an award or filling a position.
---
shortlist

Verb
(third-person singular simple present shortlists, present participle shortlisting, simple past and past participle shortlisted)
To place something on a short list
---