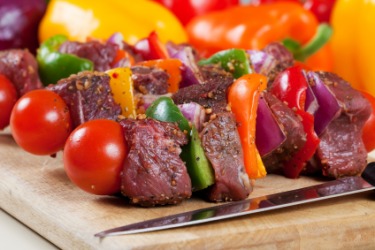 Shish kebab on a cutting board.
---
shish kebab definition by Webster's New World
a dish consisting of small chunks of marinated meat, esp. lamb, placed on skewers alternately with tomatoes, onions, green peppers, etc., and broiled
Origin: Armenian shish kabab ; from Arabic shīsh, skewer plush kabāb, kebab
Webster's New World College Dictionary Copyright © 2010 by Wiley Publishing, Inc., Cleveland, Ohio. Used by arrangement with John Wiley & Sons, Inc.
---
shish kebab definition by American Heritage Dictionary
also shish ke·bob or shish ka·bob
noun
A dish consisting of pieces of seasoned meat and sometimes vegetables roasted on skewers and served with condiments.
Origin: Armenian shish kabab, from Turkish şiş kebabı : şiş, skewer + kebabı, qualifying (possessive) form of kebap, roasted meat (probably from Arabic kabāb, cooked meat in small pieces, possibly from Aramaic kabbābā, burning, charring, from kabbeb, to char, roast, probably from Akkadian kabābu, to burn; see kbb in Semitic roots).