seismic

seis·mic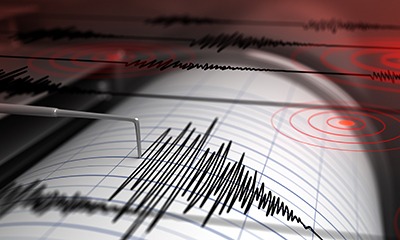 The seismic activity of an earthquake is recorded on a seismograph.
adjective
The definition of seismic is relating to or subject to earthquakes or man-made tremors.

An example of something seismic is the movement of land during an earthquake; seismic movement.
---
seismic
of, having to do with, or caused by an earthquake or earthquakes or by man-made earth tremors
subject to earthquakes
Origin of seismic
from Classical Greek
seismos
, earthquake from
seiein
, to shake from Indo-European base an unverified form
twei-
, to excite, shake, shock from source Sanskrit
tvi?-
, to be excited, sparkle
---
seismic
adjective
Of, subject to, or caused by an earthquake or earth vibration.
Earthshaking: an issue of seismic proportions and ramifications.
Related Forms:
---
seismic

Origin
Based on Ancient Greek σεισμός (seismos, "shaking, earthquake") + -ic.
---