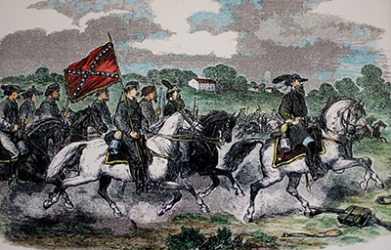 The newly elected president Abraham Lincoln in 1860 was the catalyst that prompted the southern states to move forward with their plans of secession from the United States of America.
noun
The definition of a secession is a breaking away from an organization, country, etc.

An example of a secession is when the South separated from the Union in the United States during the beginning of the Civil War period.
---
secession
an act of seceding; formal withdrawal or separation
[oftenS-] the withdrawal of the Southern states from the federal Union at the start of the Civil War
Origin of secession
Classical Latin
secessio
---
secession
noun
The act of seceding.
often Secession The withdrawal of 11 Southern states from the Union in 1860-1861, precipitating the US Civil War.
Origin of secession
Latin
sēcessiō
sēcessiōn-
from
sēcessus
past participle of
sēcēdere
to secede
; see
secede
.
Related Forms:
---
secession

Noun
(plural secessions)
The act of seceding.
Usage notes
A common example of usage is the withdrawal of 11 Southern states of the United States of America from the Union in 1860-1861, precipitating the U.S. civil war
---