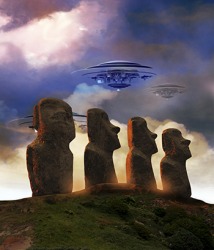 Most people are sceptics about the theory that aliens built the giant moai statues on Easter Island.
noun
Sceptic is another spelling for skeptic which is a person who questions accepted beliefs.

An example of a sceptic is an athiest raised in a devout Catholic family.
---
sceptic
---
sceptic
---
sceptic

Noun
(plural sceptics)
Someone who is undecided as to what is true and enquires after facts.
Someone who habitually doubts accepted beliefs and claims presented by others, requiring strong evidence before accepting any belief or claim.
Usage notes
Sceptic is more commonly used in the British Commonwealth, while in the US skeptic is used instead.
Origin
From Latin *scepticus, only in plural Sceptici ("the sect of Sceptics"), from Ancient Greek σκεπτικός (skeptikos, "thoughtful, inquiring"), from σκέπτομαι (skeptomai, "I consider"), compare to σκοπέω (skopeō, "I view, examine").
---