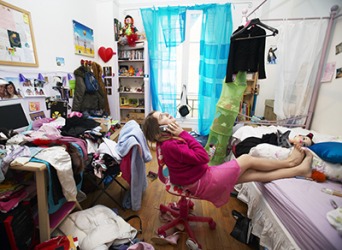 Renee's scatty personality is evident by her messy bedroom.
adjective
The definition of scatty is British slang and means disorganized, scatterbrained or absent minded.

If you are constantly looking for your keys, wallet, glasses and other personal items, this is an example of a time when you would be described as scatty.
---
scatty
adjective
-·tier

,

-·ti·est
Brit., Slang
silly, foolish, or crazy
Origin of scatty
contr. from uncertain or unknown; perhaps scatterbrained
---
scatty
adjective
scat·ti·er, scat·ti·est
Chiefly British
Scatterbrained; flighty: "the scatty, glancing quality of a hyperactive but unfocused intelligence" ( London Review of Books )
Origin of scatty
Probably
scatt(erbrain)
-y
1
---
scatty

---