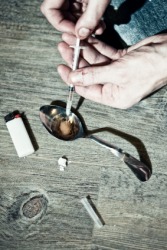 Scag is a term for heroin.
noun
Scag is a slang term for heroin.

An example of scag is what the heroin junkie asked the drug dealer for on the dark street corner.
---
scag
Origin of scag
from uncertain or unknown; perhaps
---
scag
also skag
noun
Slang
Heroin.
Origin of scag
Origin unknown
---
scag

Noun
(countable and uncountable, plural scags)
(slang, uncountable) heroin
Verb
(third-person singular simple present scags, present participle scagging, simple past and past participle scagged)
(computing) To destroy the data on a disk, either by corrupting the filesystem or by causing media damage.

"That last power hit scagged the system disk."
---