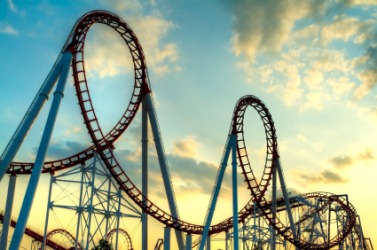 The loops of a roller coaster.
noun
The definition of a roller coaster is an amusement park ride in which you are in a car that goes up and then rapidly down a steep incline or hill or any situation with wild ups and downs.

An example of a roller coaster is a ride called The Raptor at Cedar Point amusement park, which is 137 feet high.
An example of a roller coaster is the emotion you feel when you are in a relationship where you continually break up and get back together.
---
roller coaster
an amusement ride in which small, open cars move on tracks that dip and curve sharply
something, as a situation, relationship, or series of events, characterized by frequent abrupt and unpredictable change
---
roller coaster
or roll·er·coast·er
noun
A steep, sharply curving elevated railway with small open passenger cars that is operated at high speeds as a ride, especially in an amusement park.
An action, event, or experience marked by abrupt, extreme changes in circumstance, quality, or behavior: "the demographic roller coaster caused by the baby boom" ( American Demographics )
roller coaster
Magic Mountain roller coaster
Gardaland, Italy
---
roller-coaster

Noun
(plural roller coasters)
Alternative spelling of rollercoaster.
---