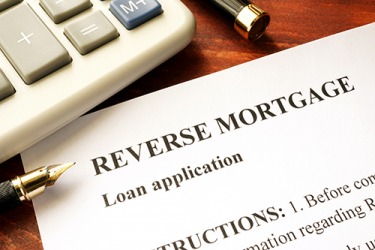 It is important to research all of the pros and cons before deciding to get a reverse mortgage.
noun
The definition of a reverse mortgage is a special type of mortgage in which the homeowner takes equity out of their homes in order to generate money to live on.

An example of a reverse mortgage is a mortgage where a senior or retired homeowner is paid monthly payments out of the equity in their home, instead of having to pay monthly payments, without being at risk of losing the house as long as they continue to live in it.
---
reverse mortgage
a loan typically given to an older person who owns a house, usually disbursed in monthly installments, and charged against the homeowner's equity
---
reverse mortgage
noun
A mortgage in which a homeowner, usually an elderly or retired person, borrows money in the form of annual payments which are charged against the equity of the home.
---
reverse-mortgage

---
reverse mortgage - Investment & Finance Definition
A mortgage whose proceeds are made available to the homeowner against the equity that is built up in the house. The homeowner is paid a monthly sum until the monthly payments have equaled the value of the mortgage. Reverse mortgages typically are used by older, cash-poor but equity-rich homeowners who need to access some of the cash value of their house in order to supplement their monthly income. Although the mortgage can be paid back, typically the bank takes ownership of the house when the owners die.
---