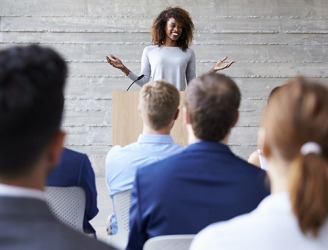 Laurie is a well known and popular speaker at events because her presentations resonate with the audience.
verb
Resonate is defined as to produce a vibrating sound or to relate in a harmonious way.

An example of to resonate is rubbing the rim of a wine glass to make sound.
An example of to resonate is someone finding a doctor who shares their ideals about health care.
---
resonate
intransitive verb
-·nat·ed

,

-·nat·ing
to be resonant
to produce resonance
Origin of resonate
from Classical Latin
resonatus,
past participle of
resonare:
see resonant
---
resonate
verb
res·o·nat·ed, res·o·nat·ing, res·o·nates
verb
intransitive
To exhibit or produce resonance or resonant effects.
To evoke a feeling of shared emotion or belief: "Bethune projected a strong presence of achievement and pride that resonated among African Americans" ( Audrey Thomas McCluskey )
To correspond closely or harmoniously: "Symbolism matters, especially if the symbols resonate with the larger message" ( William Greider )
verb
transitive
To cause to resound.
Origin of resonate
Latin
resonāre
resonāt-
; see
resound
.
Related Forms:
---
resonate

Verb
(third-person singular simple present resonates, present participle resonating, simple past and past participle resonated)
To vibrate or sound, especially in response to another vibration.

The books on top of the piano resonate when he plays certain notes.
Origin
From Latin resonatio, from resonāre, present active infinitive of resonō.
---