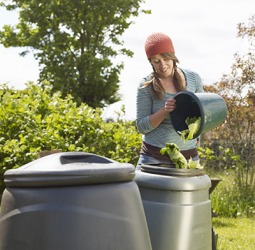 Jade is recycling vegetable scraps by discarding them into the compost bin.
noun
The definition of recycling is the process of collecting and reprocessing materials that would typically be considered waste.

Facts About Recycling

Recycling helps reduce the waste that goes into landfills. Rotting waste emits dangerous gases.
Recycling conserves energy by reducing the amount of new materials that have to be manufactured.
Recycling conserves natural resources by reducing the need for products from the rainforest. Recycling newspapers, cardboard, and other types of paper reduces the need for more trees to be cut down to produce new paper.
The most commonly recycled products are paper, plastic, glass, aluminum and batteries.

An example of recycling is reforming old glass bottles into glass building tiles.
---
recycling
noun
The activity or process of extracting and reusing useful substances found in waste.
Materials that have been set apart from refuse so that they can be recycled: She set the recycling out by the curb.
---